Healing Matrix is a mixed-media spatial installation exhibition of a new species, envisioning that in a future society, artificial intelligence is gradually transformed to unearthing the cultural elements of the city — Its body is constantly tipping over, evolving into a new kind of urban landscape. Another reference within the work is to the shaman healing performance of the lesser-known cross-border Ewengki/Evenki tribes in the Great Xing'an Mountains, China, a consciousness journey together with Maru (collective name of Ewengki nature gods).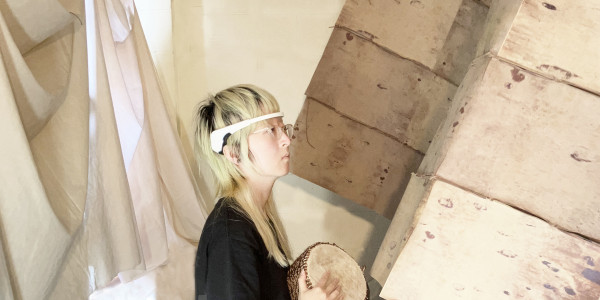 8m (length) x 6m (width) x 3m (height), overall dimensions vary with installation;
birch-bark-like paper, white translucent fabric, deer-tendon-like rope, looped soundtracks, EEG headband, VR headset, and amplifier.

*The installation is the main part of the exhibition. Performance is planned at the exhibition, engaging with street audiences.
I use this text and the photo of building an indigenous house from my Ewengki teacher Mani juxtaposed to review my interdisciplinary residency from Shanghai to the tribes researching on soundscape, natural materials and craftsmanship in 2019 and 2022, while the process of learning from the people and the healing that this land brings to the people becomes a central element of the work. I test these materials together with brainwave generative technology, and a ritualized matrix of pan-species urban space where urbanized humans may feel the connection between body, mind, spirit, and land, triggering an aesthetic imagination of how to find a sense of familiarity in a future city.
OPEN:
8:30am - 6pm Weekdays
10am - 3pm Weekends
CLOSED Friday 7-Tues 11 April for the Easter holiday
VR experience at uncertain times every day
6-8pm, 21 March: opening event by Temporary Show: Performance + audiovisual + DJ.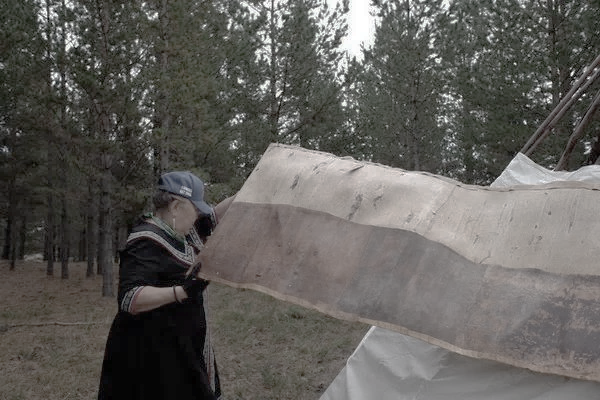 Building Ewengki indigenous house (©Lianshui Qian)
Author :HT(Shannon Ningfei Xiao), interdisciplinary artist, designer, and doctoral researcher in architecture at Victoria University of Wellington (PhD by creative practice), founder and curator of TemporaryShow art label and group.
Indigenous Collaborator: Mani Nigelai Kuderin, Ewengki researcher, inheritor of Ewengki traditional music and bonfire dance; Ash Gibson, Māori artist
Academic Advisor: Simon Twose, associate professor, Victoria University of Wellington; Hannah Hopewell, lecturer, Victoria University of Wellington
Multi-media Coordinator: Lu Pang, performance & film artist, member and manager of TemporaryShow.
* Ewengki traditional music CD by Mani and sacred drawing prints by Ash are on sale at the gallery.